One of the best solutions that Bill Howe Plumbing offers is a service called hydro jetting. Our team of repair and drain jetting specialists will have your pipes running at optimum performance in no time.
The hydro jetter is a machine that uses very high water pressure to clean excess drain buildup inside of the drain or sewer pipe. It is environmentally safe, economical and quick. The process is done through a cleanout, an opening or drain leading into a plumbing system.
Hydro Jetting is often needed when traditional snaking does not clear the blockage. It's also required prior to sewer lining to remove any debris so that the epoxy lining can bond correctly to the sewer line.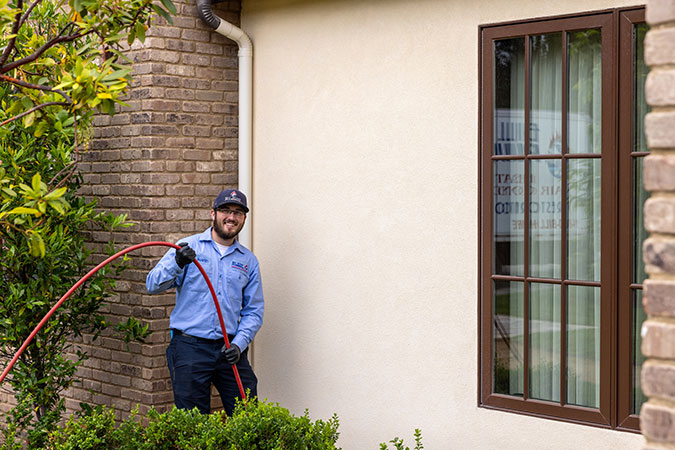 Check Out Our Latest Promos
$79 Furnace Tune Up and Safety Inspection + Free Filter
Learn More
$500 Off Purchase + Install
$500 Off Purchase + Install of Honest Silver Water Filter
Learn More
Got Mold? Get 5% Off Mold Remediation Services
Includes FREE Visual Mold Inspection & Estimate
5% Off
Learn More
What is Hydro Jetting?
Hydro jetting is a high-pressure water system that flushes and cleans your pipes increasing the efficiency and flow of your lines.
High powered drain jetting machines for main sewer lines have a reserve storage tank with approximately 300 gallons of water.
It connects to a high-pressure hose fitted with a specialty nozzle made for jetting sewer lines. There are different types of jetter nozzles for use depending on the type of drain size, level of drain clog, materials blocking the drain, or density of root intrusion (when roots are the cause).
Hydro Jetting performed by licensed, insured and bonded plumbing technicians uses about 1,500 to 4,000 PSI making it a very effective method of cleaning the line.
Benefits of Hydro Jetting
Through high-pressure streams of water, drain jetting can eliminate the cause of some of the heaviest drain blockages. In main sewer lines, hydro jetting can remove heavy scale buildup, excess grease, hardened sludge, sand, silt and debris, and other buildup that frequently occurs.
Hydro Jetting is also a cost-effective solution to remove excessive root intrusion. With specialty nozzles, a high power jetting service can remove roots from the line and restore the pipe to its full diameter and full flow.
Some signs the sewer or drain lines may need hydro jetting are signs of roots. Often, homeowners discover they have roots in the line from the toilet.
When toilets and showers back up, it might indicate a mainline sewer backup. When the cause is heavy roots, homeowners may even see roots growing up through the toilet bowl or seeping out through the base of the toilet.
Hydro Jetting isn't just for main sewer pipelines, either. Kitchen drains can become heavily clogged with grease build up over time or through abuse of the line.
Plumbers recommend avoiding putting any oils, fats or grease into the line, but sometimes it cannot be helped. A hydro jet service for the kitchen can remove years of buildup restoring the kitchen drain line to like new condition.
Hydro Jetting vs Snaking
The two main methods of clearing a clogged drain, either a kitchen line or main sewer line are hydro jetting and snaking. While both methods can be used interchangeably, hydro jetting is often the only method to completely remove the cause of the drain blockage semi-permanently.
Plumbing technicians with years of experience are skilled in removing heavy root intrusion from drain lines with specialty cutting tools and mechanical methods. However, snaking alone does not always reopen the full diameter of the pipe and blockages can recur quickly.
Hydro Jetting a drain line provides a more thorough cleaning, will restore the full diameter of the pipe, and comes with a longer warranty against recurring drain blockages.
Snaking a line can be more cost-effective for simple drain clogs and is often the first step to tackle any drain problem for homeowners. If snaking proves ineffective, a professional plumber will often recommend a camera inspection to view the blockage and hydro jetting to clean the lines.
Preventative Maintenance
With a regularly scheduled hydro jetting service, homeowners can prolong the time between service needs for high-frequency drain lines. We talk a lot about roots, a common main sewer line problem. The only way to permanently remove roots from sewer lines is to reline them with epoxy relining solutions or to remove all trees from around the sewer line eliminating the source of roots.
Preventative maintenance with hydro jetting services is a good alternative to lining when the drain line is intact and to avoid removing trees and landscaping. For heavier build-up, maintenance schedules can vary depending on the frequency of clogs and what is causing them. Most preventative maintenance schedules range from every 6 months to annually.
Kitchen drain lines can use scheduled preventative maintenance with kitchen hydro jetting to reduce grease buildup. This is usually reserved for heavy use kitchen drain lines for commercial purposes.
How Does Our San Diego Hydro Jetting Service Work?
Because hydro jetting uses extremely high-pressure streams of water, it is important to view the condition of the line prior to jetting and after jetting.
Performing a camera inspection allows the plumbing technician to view the nature of the drain blockage and determine if hydro jetting is the right solution.
During the hydro jetting process, the drain specialist will also use a camera to ensure the jetter is removing the buildup effectively. A final inspection will be performed to view the line after hydro jetting to check all buildup removal has been resolved.
Bill Howe Plumbing has highly trained technicians that will review your lines and offer the best solution to take care of all of your drain needs.
We offer free estimates and viable solutions to keep your drains in excellent working condition. All of our services are based on your personal needs and customized just for you.
If you suspect your main sewer line or kitchen drain is in need of hydro jetting services, call 1-800-BILL-HOWE (1-800-245-5469) today.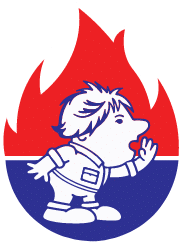 Start Checking Things Off That Home Improvement List With Our Flexible Financing Options
If you want to upgrade your plumbing, HVAC equipment or have an unexpected repair, Bill Howe offers financing solutions that get you the services you need when you need them. Financing is available for a variety of services and products including equipment and installation, maintenance and repairs. Plus, you'll find flexible, budget-friendly options to fit your individual needs.
Access to affordable upgrades and repairs
Low monthly payments
Competitive Financing Rates
Your choice of lender with a program that best fits your needs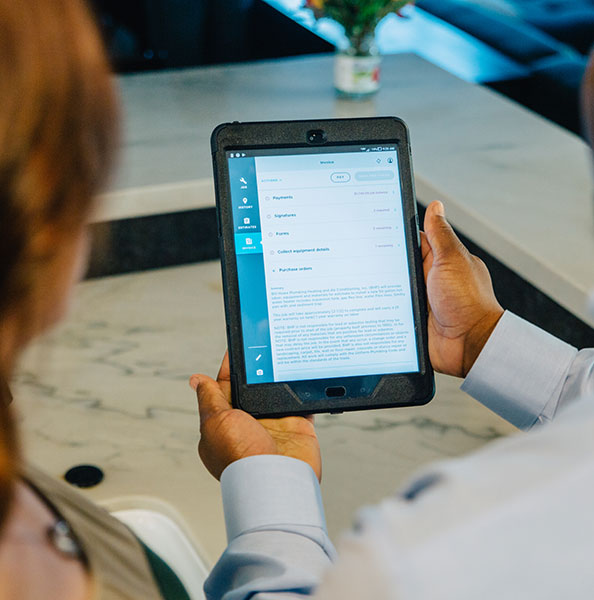 Alpine
Bonita
Bonsall
Borrego Springs
Boulevard
Camp Pendleton
Campo
Cardiff By The Sea
Carlsbad
Chula Vista
Coronado
Del Mar
Descanso
Dulzura
El Cajon
Encinitas
Escondido
Fallbrook
Guatay
Imperial Beach
Jacumba
Jamul
Julian
La Jolla
La Mesa
Lakeside
Lemon Grove
Mount Laguna
National City
Oceanside
Pala
Palomar Mountain
Pauma Valley
Pine Valley
Potrero
Poway
Ramona
Ranchita
Rancho Santa Fe
San Diego
San Luis Rey
San Marcos
San Ysidro
Santa Ysabel
Santee
Solana Beach
Spring Valley
Tecate
Valley Center
Vista
Warner Springs