Slab leaks aren't fun. At Bill Howe, we know this, and we're comitted to getting you back up and running as soon as possible. If your home or business has a slab leak, it's important to take care of it right away. Over time, a slab leak can cause costly water damage and early detection is the key to preventing a major headache. We specialize in detecting and repairing slab leaks, so if you're concerned that you may have one, call us right away.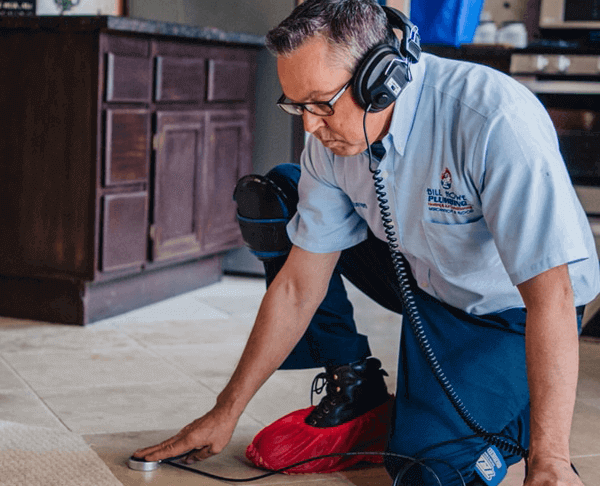 Check Out Our Latest Promos
Get Up to $1500 off Your New Heating and Air System When You Book Now!
Learn More
$500 Off Purchase + Install
$500 Off Purchase + Install of Honest Silver Water Filter
Learn More
What Is A Slab Leak?
A slab leak is a leak in the copper water lines that run below the foundation of your home. Similar leaks occur above ground in walls or ceilings and are called pinhole leaks. These leaks are usually the result of long-term corrosion of your copper pipes abd they can cause major damage to walls, hardwood flooring, carpeting, drywall and anything else in your house. In fact, any damage to your slab compromises the structural integrity of your entire house.
What Causes Slab Leaks?
Slab leaks can occur in both residential and commercial settings wherever a slab foundation exists. They happen for a variety of reasons, such as:
Fluctuating water pressure
Foundation shifting
Aging water lines
Water pressure is one of the leading causes of slab leaks. Pressurized water servicing the home or business comes in from the city water supply and can have a pressure anywhere between 50 and 150 psi. Since homeowners and businesses cannot regulate city water pressure, it's something that can affect the property's pipes without the owner knowing until it's too late. Fluctuating water pressure, or water pressure that is too high, enters the home and, as it's heated and cooled, causes the plumbing supply lines to expand and contract. This expansion, often called thermal expansion, can cause the water lines to create friction against the foundation. Over time, repeated expansion and contraction can eventually wear small holes, known as pinhole leaks, in the pipe. Most homes in San Diego that are more than 30 years old will experience a slab leak at some point. Water pressure that is too high or constantly fluctuating also leads to plumbing fixture leaks in toilets, faucets, showers, and hose faucets. Pressure regulators and thermal expansion tanks are preventative plumbing measures that can help with high water pressure, and they are now required by Uniform Plumbing Code. If you have an older home, Bill Howe can install and replace pressure regulators to help prevent a costly plumbing slab leak.
Signs Of A Slab Leak
Signs and symptoms of a slab leak can vary depending on the location, severity, and whether the leak is coming from the hot or cold line. One of the most common signs is warm spots on floors. These warm spots can occur in any room, and indicate a slab leak in a hot water line.
Check Your Water Bill
Higher than average water bills can be a sign of a slab leak. If you notice your water bill has spiked without explanation, getting a Bill Howe professional technician on site with detection equipment should be your first priority. Stopping these leaks early is key to limiting the damage they can cause.
If You See Mold Or Mildew
Mold and mildew is nasty stuff. It can develop especially easily in corners where carpet, wood or other absorbant material is present. Water moisture from a slab leak can cause mold and midlew to develop before the leak is noticed. Mold and midlew has a distinct musty smell, which you also might notice, even if you can't visually detect it.
Mold can cause health problems, so it's important to get it taken care of as soon as possible. At Bill Howe, we can fix your slab leak and repair the damage from mold and mildew, so call us for slab leak service in san diego as soon as you see or smell a problem.
If You Hear Running Water
The sound of running water, trickling, or hissing can also indicate a slab leak. Often, it's hard to pinpoint exactly where the sound is coming from due to how sound travels in structures. If you hear one of these sounds and suspect a leak, the best idea is to get a Bill Howe professional out to locate the source.
Our slab leak experts have a wealth of knowledge and experience with detecting and repairing slab leaks in San Diego, and you're always in good hands with Bill Howe. Remember that the longer you wait to deal with a slab leak the worse it will get. We care about our customers and don't want you paying high water bills or having to conduct large home restoration projects. However, if the situation arrises, you can trust us to handle your slab repair and reconstruction with care for your property and your wallet.
Precise Electronic Leak Detection Services
Customers often ask us if slab leaks can be detected using thermal imaging or moisture detection tools. While these tools are useful for detecting the presence of moisture caused by a potential slab leak, they lack the precision needed to pin point where a slab leak actually is. A matter of a few inches in either direction can have a significant effect on the repair method needed.

Bill Howe uses electronic slab leak detection equipment to precisely locate the source of the leak. Electronic leak detection works much better than sonar or other tools. Our slab leak plumbers use location equipment to listen for the leak, which has distinct sound features from general running water.

Once a Bill Howe slab leak plumber has located the problem, they'll provide a repair estimate. There are a number of options in dealing with slab leaks, but it's important to choose the right one for your circumstances. In many instances it's possible to directly repair the affected pipe, while sometimes a whole home solution is necessary to prevent future leaks and ensure your home's water supply is in top shape. We can help you decide what's right for you and your home.

If we do find a slab leak in your home, we'll let you know exactly where the leak is and provide you with repair options to help you avoid major costs in the future.
How We Fix Slab Leaks
Once we detect a slab leak, our plumber will make reccomendations for repair. Slab leak repair costs in San Diego can vary depedning on the severity and location of the leak, and any damage already caused. Rest assured that you'll be given the best options that suit your unique needs.
Direct slab leak repair is the least expensive option and is usually covered by homeowners' insurance. Direct slab leak repair involves opening the floor and making a repair to the affected pipe. This is done by cutting the problem section of pipe and installing a new section, then backfilling the hole.
If the slab leak is underneath hardwood, laminate flooring or carpet, many insurance companies will cover the costs to put the floor back to pre-leak condition. One thing to note is that direct slab leak repair is covered by a 30 day warranty, but many plumbers will advise that another leak along the problem pipe is likely.
Rerouting can be another option for dealing with a slab leak. This method involves terminating the leaking line, then rerouting it above the slab foundation. Depending on the location of the water line, reroutes can be done through walls, behind cabinets, or on the exterior of the home or business. It's worth noting that because reroutes are usually only conducted on the problem water line, if there is a remaining line under the slab, it can also develop a leak in the future.
Re-piping all water lines on the property is the most recommended method of slab leak repair, but also the most expensive and sometimes not covered by homeowners' insurance. In this scenario, all water lines are re-piped behind walls, cabinets, or to the exterior of the building. The advantage in this method is that pipe leaks are much easier and less costly to deal with in the future. A whole home re-pipe is similar to a reroute but more extensive.
There are times when rerouting the water supply or re-piping are the only options, such as when slab leaks are located underneath a post-tension slab foundation. In this case, because of the build, it's not an option to go through the foundation to make a direct repair.
San Diego's #1 Slab Leak Detection and Repair Company
If you suspect a slab leak in your home or business, contact Bill Howe for our expert leak detection services. We'll help you understand what you're dealing with and your options for repair. Our highly trained and certified plumbers will make recommendations and provide estimates to help with insurance claims.
Bill Howe also offers water damage restoration and reconstruction services to help put your home or business back to pre-leak condition or better! Bill Howe Restoration & Flood also works directly with insurance companies for all water mitigation and reconstruction services, taking the stress off of you.
Slab Leak Repair Near Me
With over 43 years of plumbing experience in San Diego, you can trust Bill Howe as your slab leak repair experts. If you suspect you have a slab leak, don't wait. Contact us now at Call 1-800 BILL HOWE.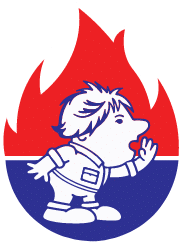 Start Checking Things Off That Home Improvement List With Our Flexible Financing Options
If you want to upgrade your plumbing, HVAC equipment or have an unexpected repair, Bill Howe offers financing solutions that get you the services you need when you need them. Financing is available for a variety of services and products including equipment and installation, maintenance and repairs. Plus, you'll find flexible, budget-friendly options to fit your individual needs.
Access to affordable upgrades and repairs
Low monthly payments
Competitive Financing Rates
Your choice of lender with a program that best fits your needs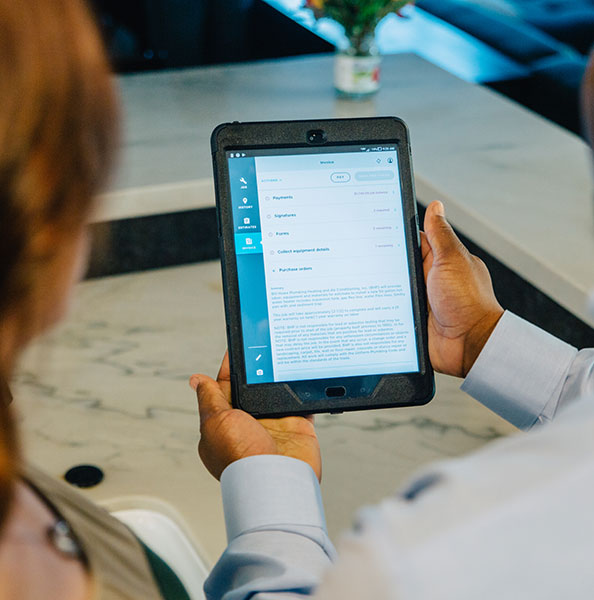 Alpine
Bonita
Bonsall
Borrego Springs
Boulevard
Camp Pendleton
Campo
Cardiff By The Sea
Carlsbad
Chula Vista
Coronado
Del Mar
Descanso
Dulzura
El Cajon
Encinitas
Escondido
Fallbrook
Guatay
Imperial Beach
Jacumba
Jamul
Julian
La Jolla
La Mesa
Lakeside
Lemon Grove
Mount Laguna
National City
Oceanside
Pala
Palomar Mountain
Pauma Valley
Pine Valley
Potrero
Poway
Ramona
Ranchita
Rancho Santa Fe
San Diego
San Luis Rey
San Marcos
San Ysidro
Santa Ysabel
Santee
Solana Beach
Spring Valley
Tecate
Valley Center
Vista
Warner Springs