Plumbing – Value of $714
Plumbing/ HVAC – Value of $872
Check Out Our Latest Promos
$79 Furnace Tune Up and Safety Inspection + Free Filter
Learn More
$500 Off Purchase + Install
$500 Off Purchase + Install of Honest Silver Water Filter
Learn More
Got Mold? Get 5% Off Mold Remediation Services
Includes FREE Visual Mold Inspection & Estimate
5% Off
Learn More
Water Heater/ Tankless Maintenance
Whether you have a tank water heater or tankless unit, yearly maintenance keeps it running efficienty, extends its life and keeps you ahead of any problems that might be developing.
Whole House Plumbing Inspection
Know what's going on with your plumbing before catastrophe strikes. Our expert plumbers can make recommendations for maintenance or repair to keep your home in top shape.
Main Line Sewer Camera Inspection
Nobody likes a clog. Avoid backups and floods before they happen with a yearly drain camera inspection.
Front of the Line Service
We know it can be frustrating to wait for help. Skip the line and get immediate service for whatever you need.
No Dispatch Fee
That's right. We waive the $89 dispatch fee for Bill's Family Plan members.
Extends the Life of Systems and Equipment
Regular maintenance and small repairs are essential in keeping your home's plumbing and HVAC systems in good condition and avoiding catastrophic breakdowns.
Service Satisfaction Commitment
We stand by our customer service. In fact, we call it legendary. If you're not completely satisfied, we'll make it right.
Peace of Mind
Life is busy. You're dealing with a lot of important things, and we don't think backed up kitchen sinks, or AC that won't turn on should be on the list. Bill's Family plan gaurantees you peace of mind, knowing your plumbing maintenance is up to date, and that you always have someone to call for fast service if you need it!
Transferable
If you move to a new home, we'll happily transfer your membership, just as long as you're still in our service area!
HVAC Furnace Tune Up
A comprehensive 21-point inspection ensuring your home is ready to keep you warm and comfotable in the coldest months.
1. Inspect wiring and control circuit
2. Inspect blower assembly
3. Visually inspect heat exchanger(s)
4. Check/adjust fuel and air mixture
5. Inspect venting and combustion air
6. Check flame rectification and clean sensor
7. Check/adjust inlet and outlet gas pressure
8. Inspect for gas leaks
9. Inspect safety controls
10. Inspect electrical components
11. Verify temperature rise (dry bulb)
12. Verify flue temperature and draft
13. Verify motor amps
14. Clean the control panel, burners, and wipe down equipment
15. Verify supply and return air static pressures
16. Verify correct voltage to furnace equipment
17. Test and measure carbon monoxide
18. Inspect thermostat operation and programming
19. Clean or replace filter (standard basic)
20. Cycle equipment to verify operation
21. Provide a written diagnostic report of findings
HVAC A/C Tune Up / Heat Pump
A thorough, 22-point inspection that will leave your AC refreshed and ready for another year of reliable cooling.
1. Inspect and clean the outdoor condensing unit
2. Inspect the indoor coil
3. Inspect for visible refrigerant leaks
4. Inspect the condensate drain pan
5. Inspect the condensate drain line and p-trap
6. Inspect wiring and control unit
7. Inspect the blower assembly
8. Inspect the thermostat operation and programming
9. Verify suction and discharge pressure
10. Verify supply and return air static pressures
11. Inspect safety controls
12. Inspect electrical components
13. Verify temperature drop (and rise on heat pump)
14. Verify correct superheat or sub-cooling
15. Verify motor amps
16. Clean control panel
17. Verify correct voltage to equipment
18. Verify blower speed
19. Inspect refrigerant lines
20. Cycle equipment to verify operation
21. Clean or replace filter (standard basic filter)
22. Provide a written diagnostic report of findings
Plus All Plumbing Services From Our Plumbing Plan
You can't beat the value. Join Bill's Family Plan today!
Save money and gaurantee your peace of mind – priceless!
Some fun fineprint:
Memberships are based on service location, so if you have multiple homes you can have a membership for however many you want. You can even buy one for a family member or friend! Accounts aren't elligible for Bill's Family Plan because special rates are already applied. Simple huh?
Bill's Family Plan Details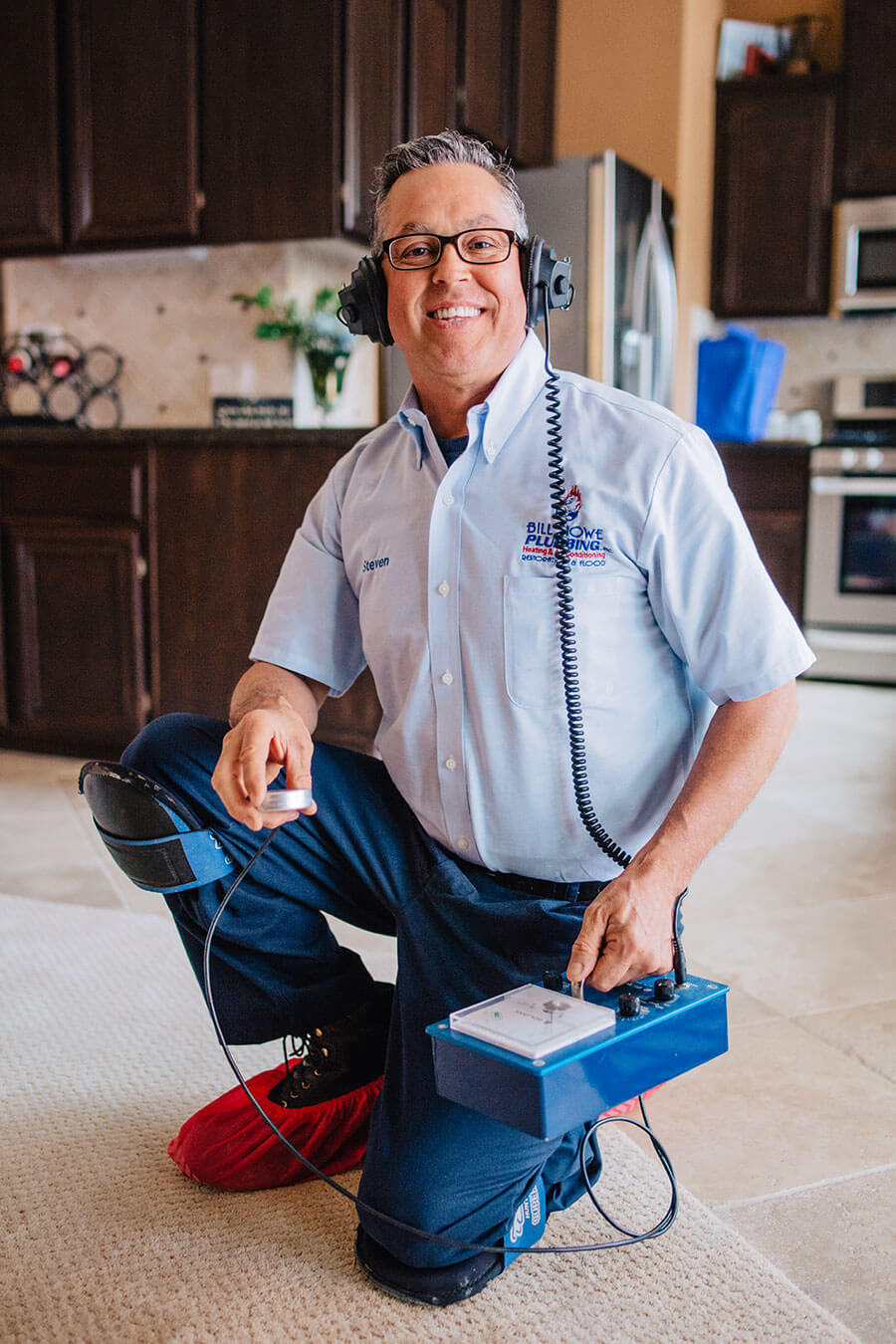 Frequently Asked Questions