Whether you want to keep cool in hot weather or stay warm and cozy in chilly temperatures, you can count on Bill Howe for all your air conditioning and heating repair needs. We're proud to serve the San Diego area for over 40 years with heating and air conditioning repair, installation, and maintenance.
HVAC Installation, Repair and Maintenance
Residential and Commercial
Light Commercial HVAC
Duct Cleaning
Exhaust Fans
Whole House Re-ducting
"Green" Thermostat Recycling Program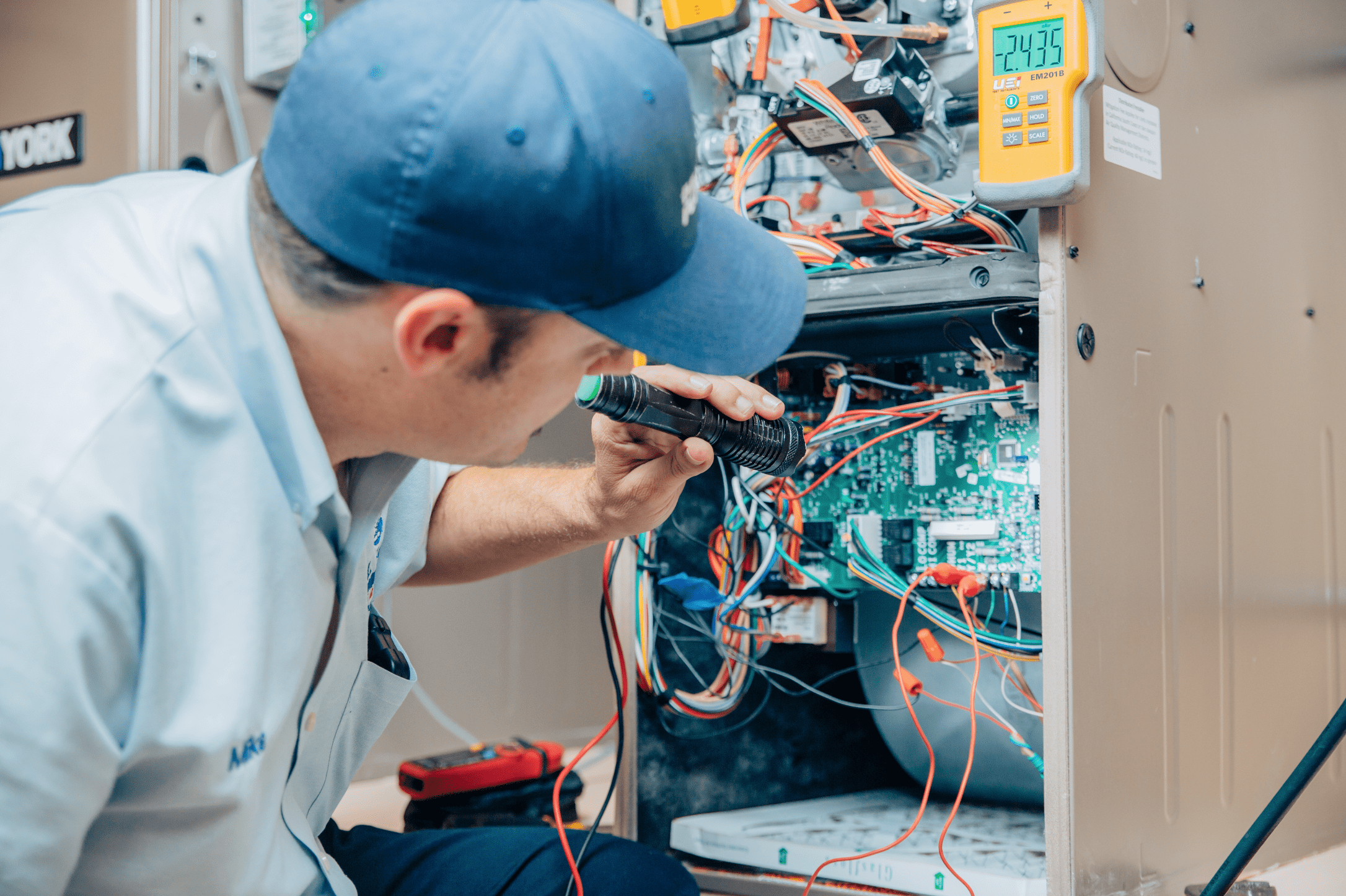 Check Out Our Latest Promos
Get Up to $1500 off Your New Heating and Air System When You Book Now!
Learn More
$79 Furnace Tune Up and Safety Inspection + Free Filter
Learn More
Garbage Disposal Repair & Installation
When it's time to repair or replace your garbage disposal, San Diego residents can trust the experts at Bill Howe for garbage disposal installation in San Diego. We are a factory authorized retailer and installer of the InSinkErator brand. Our plumbing technicians are experienced and equipped to bring and install your new garbage disposal 24/7.
Garbage disposals are one of those appliances that often go unnoticed until they don't work. Some common problems with disposals are jams, clogs, leaks, and motor malfunctions. While garbage disposal repair is possible in some cases, you may need to replace the unit altogether. Bill Howe are the experts in garbage disposal repair in San Diego and are available to help you!
Signs Your Garbage Disposal Isn't Working Correctly
You're probably used to your garbage disposal providing effortless performance every time you turn it on until. That is until you begin to have problems. Some problems may have an easy fix, such as resetting the unit with the button at the bottom of the disposal. This problem often occurs because of too much waste in the disposal or waste that won't break into pieces, such as bones and large seeds. In these cases, the disposal shuts down to prevent damage.
Other issues you may encounter include a disposal that hums but doesn't spin. You may also find that your sink is slow to drain or doesn't drain at all, indicating a possible clog in the garbage disposal. Additionally, disposals may develop a leak, which usually occurs around the seal that connects it to the sink. Inspect under your sink and around your garbage disposal regularly to catch leaks before water damage sets in.
If you notice a bad smell coming from the disposal you can use baking soda or cut a lemon into small pieces and run it through the drain to eliminate odors. If the odor persists, it may indicate that the waste isn't being completely processed and pushed down the drain. This is another sign that your garbage disposal isn't doing its job and needs to be repaired or replaced. In this case, it's time to call Bill Howe for garbage disposal installation in San Diego.
Avoid the temptation to use a chemical drain cleaner in a garbage disposal because it can cause damage to the unit. Blockages are generally located in the pipe where the disposal connects to the drain. In this situation, call Bill Howe for repair or garbage disposal replacement in San Diego.
But, How Do You Choose the Right Garbage Disposal?
Most homeowners can simply replace their garbage disposal, but there are many different types of disposals to handle different customer needs.
A professional plumbing technician is the best person to make recommendations when installing a new garbage disposal. They can ensure that the new disposal will have the right fit, have the features customers are looking for, and can determine if any electrical component is needed. Bill Howe's professionally trained technicians can help you decide the best garbage disposal for installation in your San Diego home.
About InSinkErator Brand Disposals
InSinkErator is a high-quality, trusted brand that continues to satisfy Bill Howe Plumbing's customers. The InSinkErator disposal series includes the Badger and Evolution series which provide solutions for any residential or commercial need.
Badger Series Disposal
The Badger series disposals offer a rugged and economical choice in kitchen fixtures. The Badger line of disposals have horsepower functions ranging from ⅓ to ¾ horsepower, are tough on kitchen food waste, and are dependable. The Badger Series all come equipped with:
Dura-Drive Induction Motor – These powerful, heavy-duty motors are manufactured by InSinkErator to exacting specifications that help ensure high performance and long life.
Quick-Lock Sink Mount – Available only from InSinkErator, this "twist-on, twist-off" sink mount makes installation fast and easy, no matter what disposal you're replacing.
We Come To You 3 Year In-Home Service Warranty – At InSinkErator, we handle your service problems at your convenience, in your home.
Badger series disposals are compact and will have a size that fits under even the trickiest kitchen sink.
Evolution Series Disposal
The Evolution Series from InSinkErator represents a step up from Badger disposals with unique features that make them a great choice for the discerning kitchen user. All Evolution series disposals are at least ¾ horsepower for the toughest action, but also come equipped with their proprietary SoundSeal (this is a registered trademark? )
The Evolution Series boasts the quietest disposal on the market, and there are models that are smaller than a conventional unit to accommodate tight sink spaces. The Evolution Compact Series Disposals also come with the same great features as the Badger Series, plus:
We Come To You 4 Year In-Home Service Warranty – At InSinkErator, we handle your service problems at your convenience, in your home.
SoundSeal™ Technology – Whisper quiet performance
MultiGrind™ Technology – Advertising the highest capacity to grind the heaviest food waste.
There are even more options within the Evolution Series, offering larger chambers, sensors that will detect a jam for easy homeowner repair, reverse grinding capability, and up to 7 years of in-home service warranties.
Plus, all InsinkErator disposals are assembled with pride in the U.S.
Trust Bill Howe For Your Garbage Disposal Installation in San Diego
Every Bill Howe plumber has a standard Badger 5 disposal on their truck at all times. It is one of the most common displays installed in the community and fits most customers' needs. However, our techs are equipped with the knowledge and equipment to install many different disposals that suit your specific needs and kitchen uses.
When calling to repair or replace your broken garbage disposal, our dedicated customer service representatives will walk through some of your options and even provide quotes over the phone for a garbage disposal installation in San Diego.
When Bill Howe installs and provides the disposal for installation, customers receive a full one-year parts and labor warranty. This means that if the disposal fails for any reason, we will come back out at no charge and install a new disposal. Customers should also register the disposal to take advantage of the manufacturer warranty period.
Our plumbing technicians can also install a garbage disposal provided by our customers so you have the most choice and flexibility.
When installing a customer supplied disposal, Bill Howe offers a 30-day warranty on labor only. But if you choose an InSinkErator, you are still covered as long as you register your product. When you enable your warranty, Bill Howe will come and install the replacement at regular labor rates should something go wrong with your unit.
Is It True I Can Put Anything in A Quality Disposal?
This is where we disagree with InSinkErator. We recommend, as most plumbers do, to use disposals sparingly. Proper care and garbage disposal maintenance will keep it running long past its warranty and keep your drain lines clear.
While a high quality, high horsepower disposal can grind and push just about anything down the kitchen sink, this isn't necessarily a good idea for your pipes.
Most kitchen sink clogs are due to heavy grease buildup and food scraps. So, scrape those plates into the trash and use the disposal for the small remnants that are left. If you follow this practice and run cold water while using the disposal, you can count on clear pipes and fresh smelling drains for a long time to come.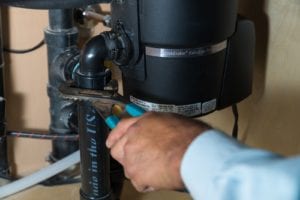 Bill Howe has over 40 years of experience in the plumbing and sewer industry. Our team is skilled in drain cleaning and backflow prevention. We'll also install and repair faucets and fixtures along with garbage disposal installation and repair. For more information on garbage disposal installation in San Diego or to request a quote, please contact us at 1-800-BILL-HOWE (1-800-245-5469), visit our website to live chat, or book your appointment online today.
Frequently Asked Questions (FAQs)
Garbage disposals are a convenient kitchen appliance, but they require proper care and maintenance to ensure they function smoothly. Below, we've compiled answers to some of the most common questions we receive about garbage disposals to help you keep yours in top shape.
How to unclog a garbage disposal
When it comes to unclogging a garbage disposal, safety should be your priority. Never put your hand down a clogged disposal. Here's a step-by-step guide to help you handle this task:
1. Turn off the power to the disposal to prevent accidental activation.
2. Use a plunger designed for sinks to clear out food remnants. Plunge vigorously to dislodge the clog.
3. For stubborn clogs, create a mixture by combining 1/4 cup of baking soda and 1/4 cup of vinegar. Pour it down the disposal and let it sit for a few minutes before running cold water and turning the disposal back on.
4. If the problem persists, it's time to call in the professionals. Bill Howe's plumbing experts are well-equipped to handle garbage disposal clogs.
How long does a garbage disposal last?
Garbage disposals typically have a lifespan of up to 15 years, but their longevity depends on usage and maintenance. To extend the life of your disposal, run cold water regularly to wash away particles and debris.
Why is my garbage disposal not working?
If your garbage disposal isn't working, here are some troubleshooting steps:
Check the power and ensure it's properly connected.
Press the reset button on the disposal.
If you hear a humming sound, foreign objects might be caught in the plates. Use a flashlight to safely inspect for any foreign items.
Never put your hands in the garbage disposal, even if it's unplugged.
If the issue persists, consider reaching out to professionals like Bill Howe for further diagnosis and potential replacement.
How to fix a leaking garbage disposal
If your garbage disposal is leaking, identifying the source of the leak is crucial. Depending on the location of the leak (top, bottom, or side), it may be time to replace it. For the best results and assistance, consider contacting professionals like Bill Howe for expert guidance and repair.
How do I know if my garbage disposal is bad?
Here are signs that indicate your garbage disposal may need attention or replacement:
Abnormal or loud sounds when turned on.
Water leaking under the unit.
Constant jams, clogs, or failure to turn on even after resetting.
Persistent foul odors emanating from the disposal.
These signs suggest it's time to have a plumbing expert from Bill Howe take a look at or potentially replace your garbage disposal.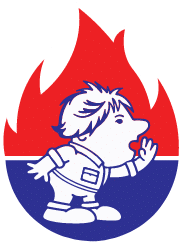 Start Checking Things Off That Home Improvement List With Our Flexible Financing Options
If you want to upgrade your plumbing, HVAC equipment or have an unexpected repair, Bill Howe offers financing solutions that get you the services you need when you need them. Financing is available for a variety of services and products including equipment and installation, maintenance and repairs. Plus, you'll find flexible, budget-friendly options to fit your individual needs.
Access to affordable upgrades and repairs
Low monthly payments
Competitive Financing Rates
Your choice of lender with a program that best fits your needs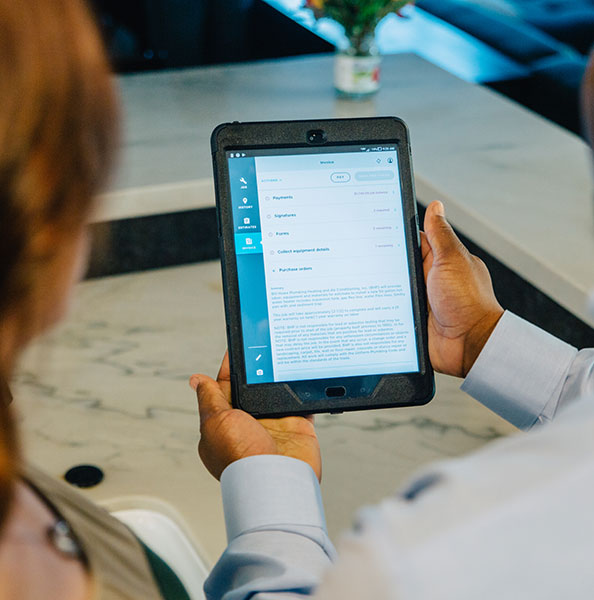 Alpine
Bonita
Bonsall
Borrego Springs
Boulevard
Camp Pendleton
Campo
Cardiff By The Sea
Carlsbad
Chula Vista
Coronado
Del Mar
Descanso
Dulzura
El Cajon
Encinitas
Escondido
Fallbrook
Guatay
Imperial Beach
Jacumba
Jamul
Julian
La Jolla
La Mesa
Lakeside
Lemon Grove
Mount Laguna
National City
Oceanside
Pala
Palomar Mountain
Pauma Valley
Pine Valley
Potrero
Poway
Ramona
Ranchita
Rancho Santa Fe
San Diego
San Luis Rey
San Marcos
San Ysidro
Santa Ysabel
Santee
Solana Beach
Spring Valley
Tecate
Valley Center
Vista
Warner Springs