Do you know the vital role that proper ducting configuration plays in the efficiency and air quality of your central heating & cooling system?
Bill Howe has been the leading expert in heating & air conditioning in San Diego for over a decade, and we know that begins with properly sized, sealed and clean ducts!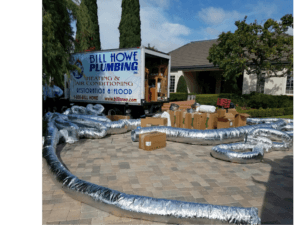 Sizing
It is important to ensure proper ductwork size in you home. If your home had ducting in place prior to you moving in, and you experience problems with airflow, it would be worthwhile to check your ducting.
If you are thinking of installing a central heating & cooling system, make sure that your home comfort advisor is designing the right size ducting. At Bill Howe, all of our free estimates are tailored to your home and family needs, and we know the important role proper duct work plays in keeping you comfortable year-round.
Sealing
Proper insulation and sealing of ducting can have a big impact on your utility costs. Leaking ducts can cause as much as 20 % loss of efficiency according to epa.gov. By ensuring your ductwork is properly sealed, you can also help improve air quality and eliminate potential pollutants from getting into the air circulation.
Cleaning
Your ductwork does not require much maintenance, but routine air duct cleaning will help improve air quality, remove dust and particle buildup (which can lead to loss of efficiency) and is something you should invest in annually or bi-annually. While you can clean and change filters yourself, duct cleaning uses specialized vacuuming tools and requires precision; it is best to call a professional heating and air service specialist. In San Diego, Bill Howe has been providing duct cleaning for over a decade and we have the best technology available.
If you see heavy signs of dust or soil around your vents, begin to smell musty odors coming from your system, or experience a rise in allergies in your home, call us, and we'll send you a specialist to assess if your ducting is due for a cleaning.
If you're experiencing any issues in your home that you believe to be related to your heating & air system, call the San Diego specialists at Bill Howe. We were recently named as San Diego's Best Heating & Air Company by the readers of the Union Tribune and have the training to keep your home allergy and dust fee, and your system running at the highest level of efficiency.
Call 1-800 Bill Howe (245-5469) for your free duct cleaning quote today.