With the holidays right around the corner, we sat down with Bill Howe Drain Technician, Nate Thorson to find out what tips he has for customers who are having guests over for the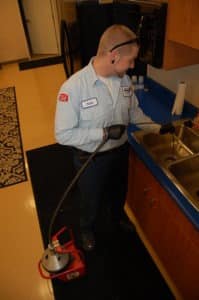 holidays and who are hosting Thanksgiving at their homes.
Q: How long have you been with Bill Howe Plumbing?
Nate: I've been with Bill Howe Plumbing since 2007. I started here brand new to the plumbing industry and now I have earned my Journeyman Plumber's License for the state of California after going through the 4-year PHCC Educational Foundation and I'm a member of IAPMO (International Association of Plumbing and Mechanical Officials).
Q: What do you like about drain cleaning?
Nate: I have fun as a drain technician because I really know what I'm doing. At this point I've been doing it for so long, there are few scenarios that I haven't come across. I like the sense of accomplishment and I get to save the day for customers. Dealing with a drain issue is never fun for the customers, I get to take that stress off of them.
Q: What is the most common cause of clogged kitchen sink drains?
Nate: Food and grease are definitely the most common.
Q: How can customers prevent clogged kitchen sink drains?
Nate: Customers should really limit the kitchen sink drain to the bare minimum amount of food, separate grease and put it in a container, and put all solids in the trash. It'd probably be best if customers didn't even know they had a garbage disposal. Often customers will ask what the disposal is even for, if not to chop up and get rid of the food waste. The disposal is there to assist in pushing any solids through the drain so that it doesn't sit in the drain, eventually rotting and smelling. Despite the name of it, the garbage disposal isn't really meant to dispose of your food.
Q: What recommendations would you give to customers preparing for guests around the holidays?
Nate: Have a plumber come and snake your drain beforehand. Preventative maintenance is the best way to avoid a disaster. Also, if you're planning on hosting Thanksgiving at your house, pretend that your garbage disposal does not even exist. I've been to customers' homes for a kitchen drain backed up, only to find that they've tried to push the leftovers of an entire roast down their drain.
Q: What is the day after Thanksgiving like for you?
Nate: BUSY! That's one of the busiest days of the year for drain technicians and it's not only kitchen drains that are the issue. During the holidays customers have guests over and the drains are used more often (i.e. more showers are taken, more clothes need to be washed, and the toilet is used more) and all of that extra usage is more likely to cause a mainline to back up. However, if customers have a preventative drain maintenance done, that will eliminate any unwanted surprises.
Q: What options does a customer have when their drain is completely stopped up?
Nate: First thing you want to do is to check all the other drains in the house, if everything else is okay, you can use those drains, just stop using the drain that is backed up. If any other drain is backed up, stop using all of the drains. Then call a plumber to locate and clear the blockage.
Q: Can a clogged kitchen sink drain be so backed up that it causes the garbage disposal not to work?
Nate: If it's a dual compartment sink and the disposal side is backed up but the other side is draining fine then it's a disposal problem. A lot of the time the disposal will just hum and it means the disposal is jammed, but if it still spins, then it's a clog that's happening directly after the disposal.
Q: Do you recommend using liquid drain cleaners?
Nate: Snaking will always be the more effective and longer-lasting solution to a drain clog. Liquid drain cleaners are too acidic and could even damage the line if used excessively. If the drain is completely clogged, the liquid drain cleaner won't do much other than add to the amount of buildup in the drain.
Q: Is there anything else customers can do to help keep their drains clean?
Nate: I recommend pouring boiling water down the kitchen drain twice a month, it will help break down and liquefy everything in the drain and the pipes will be able to withstand it. Customers will also bring up common myths to keeping your kitchen drain clean and smelling good. For example, some customers will put lemon peels down the drain to help the smell. Lemon peels will actually help block up your drain more than it will help the smell. To avoid foul smells in your drain, minimize any food going down the drains and pour boiling water down the drain to remove buildup.