DIY Tips to Keep You Cool and Save You Money
Simple do-it-yourself tips to maintaining your air conditioning unit from our experts
The dog days of summer are finally here and we may be getting more than we bargained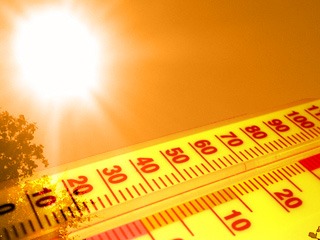 for! Hopefully you're not turning on your air conditioning unit for the first time. Testing your unit before the heat wave hits will help you avoid any delays in cooling down your home or business as soon as you need it.  Granted, it's already hot so most likely you've already cranked that bad boy up.
We've included some do-it-yourself tips below to help you make sure your unit will be working as efficiently as possible all summer long. We also threw in a tip (DIY Tip #3) that will help you save energy and save money since you're not using your furnace.
DIY Tip #1 – Cleaning your outdoor condenser
Whether you have a regular air conditioner or a heat pump condenser, keeping the coils clean is always important. Clean coils ensure you have proper air flow and keep your unit from overheating. Anyone can clean the condenser as long as it is accessible. First, turn off the power to the unit by either shutting off the circuit breaker and or removing the fuse pull-out at the fuse disconnect box. Once the power has been safely shut off, you can use a garden hose to rinse the dirt off your condenser coils. Be sure to only wash the condenser coils and do not use high water pressure to rinse them off.  Your unit is made to be outside and can handle the weather, but it's always best not to get the electrical wiring wet. Once you wash/rinse your condenser coils down, let it sit and air dry for at least 15-20 minutes. Then, safely restore power to your unit and put it back in service.
DIY Tip #2 – Replace air filters
Remember to replace your air filter frequently. Replacing your air filter before the hot summer days is always a good idea. But don't worry, even though the hot days are already upon us, you can still change the filter and get the most out of your unit the rest of the season. A clean air filter provides proper air flow and will make your unit work more effectively and efficiently. A standard disposable air filter can be purchased at any local hardware or home improvement store. The best filters are pleated paper filters. Try to stay away from the 30-day poly filters, which won't filter as good.
DIY Tip #3 – Turn off furnace pilots
If you have an old furnace with a standing pilot, 1980 and older, turning off the pilot in the summer months will save you energy. The standing pilot can consume up to $350.00 a year in fuel alone. If your furnace is accessible, you can turn off the gas to the pilot by either closing the shut-off supply valve or by turning the dial on your furnace valve to the off position. Just remember, before winter comes around, to relight your pilot or you will not have any heat!
Don't let your energy bills rise with the summer temps. Make sure that your air conditioning unit is operating at maximum efficiency by taking the steps to maintain your unit.
If you need a tune-up of your unit which includes a 15 point inspection or if you're in need of a repair or installation – don't hesitate to call Bill Howe Heating & Air at 1-800-BILL-HOWE (1-800-245-5469)…Because We Know Howe!